LED Light Kit - Carrera (2005-12)
Ratings Snapshot
Would recommend this product.
#PKLED997
New from Suncoast! After months of testing on our own cars, we're pleased to offer this new plug and play package. The LED interior lighting package consists of 9 LED lights, which add a brighter and more prestigious look to the interior. This kit is specifically made for 911 models, and replaces all interior lights with brighter and more energy efficient lights.
Kit includes:
- LED Light for Overhead Console x 1
- LED Light for Overhead Console Spot-Lights x 2
- LED Light for Door x 2
- LED Light for Engine Compartment x 1
- LED Light for Front Trunk x 1
- LED Light & housing for Glove Box x 1
- LED Light & housing for the lower dash x 2
- LED Light for rear shelf x 2 (Targa only, add $10.00)
Photo for reference, LED light installed in the center position: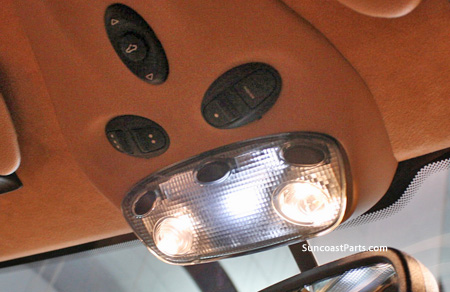 A Suncoast Parts brand product, kit may contain some Genuine Porsche light housings. Fits all 2005-2012 911 Carrera models, including Turbo, GT3, & GT2 models.
Customer Ratings & Reviews
Ratings Snapshot
Would recommend this product.
Would recommend this product.
Porsche Enthusiast
Kent
Location: Ithaca, NY
Date: September 12, 2016
Initially there was a problem with the installation, which once diagnosed, things work fine. Specifically, be sure to include information about the polarity of the LED's....if put in in the wrong orientation, they will not light. I discovered this on another uTube video, and then I turned them around, and they illuminated. Second, be sure to have the purchaser check to see that the LED's are properly installed in their fixture....mine were not, just loose inside the supplied fixture.....I figured this out trial and error. Otherwise, the installation worked fine....I suggest that you include these bits of information to minimize call-backs, and consumer upset.
Verified Buyer
Recommended
Quick Install, Looks Great
Eric B
Location: Los Angeles, CA
Date: June 18, 2016
The entire kit was a quick and easy install. There were no instructions included, so I had to fiddle with a few things while being careful not to break any small parts. That didn't add much extra time or hassle, though. The LED lights make a huge difference. Maybe not for everyone, but I really like the more modern look it gives the inside of the car.
Verified Buyer
Recommended
LED Light Kit
Mike
Location: Houston, TX
Date: June 4, 2016
I love this item. It was exactly plug and play. I did not have to cut any wires or change anything. Take bulbs out and put in the led bulbs. Only thing you have to watch is that LED bulbs are directional ( check to make sure that they work before putting everything back together. If the bulb does not come on, simply flip the bulb around. A few of them came with the whole light assembly. Top quality LED lights.
Verified Buyer
Recommended
Great upgrade
Location:
Date: June 3, 2016
Easy fit, great look.
Verified Buyer
Recommended
LEDs
Juan
Location: San Juan
Date: November 24, 2015
Must have for your Turbo
Great upgrade
Sean W.
Location: Los Banos, CA, US
Date: September 26, 2014
Took less than 15 minutes to install all of the bulbs.